true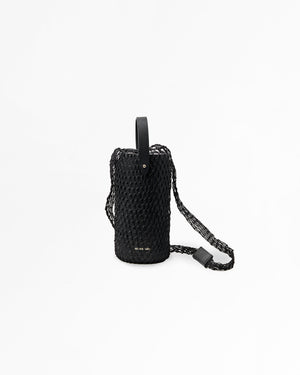 Pre-order La Montañita Black
Handmade bucket bag in leather covered by a mochila in hand knitted cumare palm fiber, you can use the bucket on the wristlet, as a shoulder bag with the mochila or just the mochila.
Handmade in Colombia in collab with the Koreguaje community in Caqueta.
Comes with a dustbag 
Cartera estilo balde en cuero cubierta por una mochila en fibra de cumare tejida a mano, puedes llevarla de mano, en el hombro con la mochila o solo la mochila.
Hecha en Colombia en colaboración con la etnia Koreguaje en Caqueta.
Viene con su bolsa de tela
Materiales / Materials
Full grain leather / Cuero liso 
Hand knitted cumare fiber mochila / Tejido a mano en fibra de palma de Cumare
Interior: Cuero gamuza / Lining: Suede
Gilded hardware / Herrajes dorados
Medidas / Size
Bucket 11 x 22 cm                      
Mochila strap drop 51 cm