true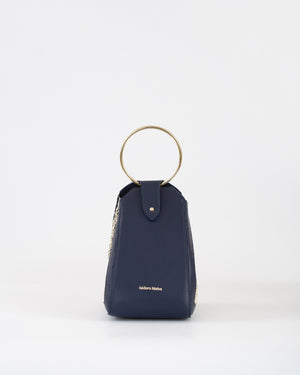 Pre order - Rincon del Mar & Mesh
Mini handbag in leather and hand knitted mesh in fiber of cumare in Caqueta with circular wristlet in gilded bronce, can be used as a handbag or shoulder bag. Removable shoulder strap, round head button closing system. 

Handmade in Colombia, comes with a dustbag 
Cartera estilo balde con base en fibra de cumare tejida a mano con agujas, puedes llevarla de mano o con su correa removible.
Hecha en Colombia, viene con su bolsa de tela
Materiales / Materials
Cuero liso italiano / Italian full grain leather
Tejido a mano en fibra de palma de Cumare / Hand knitted cumare fiber 
Interior: Cuero gamuza / Lining: Suede
Bronce baño en oro / Gold plated hardware
Medidas / Size
12 X 18 X 19 cm                           
Correa removible / Shoulder strap 100 cm
ENTREGA 25 DIAS  HABILES  / DELIVERY 25 WORKING DAYS